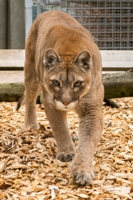 Gender: female
Species: Cougar (puma concolor)
Other names: Puma, mountain lion, panther or catamount
Date of birth: 26/May/1997
At the shelter since: 14/Jul/1999
Pünktchen and Anton were brought to Wallerdorf by an animal protection organization in 1999. They were seized by the officials after having been discovered on a property in the region of Lausitz (Lusiatia). The owner had been keeping them illegally in a tiny shed not much bigger than our ferret house. It's no surprise that they weren't able to move properly in there, let alone sharpen their claws! When it rained the floor became muddy and stayed wet for a long time even after the rain had stopped. On top of this the only water bowl was full of algae. Left overs like food, bones and faecals were left to rot their shed. It goes without saying that the two cougars undoubtedly suffered a lot under these bad conditions.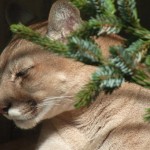 The female cougar was named Pünktchen upon arriving in Wallersdorf. Unfortunately, we had to sedate her in order to transport her from Lausitz to Wallersdorf, since she couldn't be persuaded to enter the transport box voluntarily. Till this day Pünktchen can't help being very suspicious of anything new. Whether there are new people around her, or if she is served new food: everything is observed warily before she dares get closer. Naturally this means one thing is required for her keepers: Patience! Even though her suspicions might sometimes still last several weeks, she has become calmer over time.
Despite her dental problems, Pünktchen is in surprisingly good shape for her age. She enjoys Rhani's company, who lives in the enclosure next to hers. If you're lucky, you might even see them playing catch at the fence.
Due to the wrong diet that they were subjected to during their first two years both cougars have severe dental problems, and had to be operated in 2011 (Pünktchen) and 2012 (Anton). Anton's diabetes has also been ruled a cause of this faulty diet.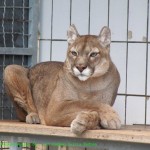 We release Anton from his suffering on 5th December 2013 after his health deteriorated drastically in the course of two weeks. He had epileptic fits and the veterinary was sure that there was no hope for recovery for him. We know you'll wait for Pünktchen on the other side.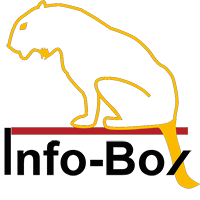 Although they belong to the biggest cats, cougars are no "panthera", but "felinae" – small cats. An important characteristic is that felinae can't roar. Another characteristic that typically applies to the "felinae" is the weight: Anton only weighed 45kg, Pünktchen weighs even less (38kg) – quite the difference compared to our lightest tiger Rhani (120kg)!