For a few years now, the SPEA has been the home of not only ferocious cats of pray, but also some smaller predators: However popular ferrets have commonly become as pets, they will always remain a little wild. Truth be told, our ferrets are certainly no exception to that rule!
The first ferrets were adopted when SPEA was founded. Their owner couldn't care for them in a manner that would be considered species appropriate, so he decided to hand them over to us. After successfully finding a new home for the ferrets, our big ferret shed now was empty. We decided to take on a number of ferrets from animal shelters near Ansbach who were having problems placing ferrets. It was an offer which was gladly accepted by the animal shelter in Ingolstadt: They had a group of five ferrets which they'd wanted to stay together and thus having trouble finding a new home for. In 2011 Snowie, Schnuffel, Knuffel, Hupsi and Schlupsi moved to the Sanctuary.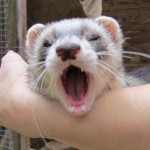 In spring 2012 Tila and Tequila provided the ferret crew with reinforcements, after their owner was forced to give them away. After integrating the two into the bigger group step by step they now happily live together – be it by enjoy playing as a seven-some or thinking up some new mischief to get into. Unfortunately, one of our ferrets had to be put down due to kidney failure.
However in July 2013 the ferret crew got an re-enforcement by a very tame ferret from a private person who was no longer able to keep it.
Unfortunately their numer was reduced once more at the beginning of 2014 when our white ferret "Snowy" died – probably of old age since he already was 8 years old.
Destiny however wanted our ferret crew to grow even more. On 11th May 2014 we took in three more ferrets. Making our ferret paradise home to a total of nine ferrets who continue to make childrens' eyes laugh.
Since our ferrets get along so well, we decided not to place them so they can stay together. Their job at the SPEA is that of an "ambassador": People who are interested in keeping ferrets of their own are given the opportunity to inform themselves about any and all "ferrety" pros and cons – from having fun with them to their strong smell, to be frank. Furthermore, we offer ideas for how a ferret house should look like.
Our ferrets live outside during the entire year. In winter we heat their sleeping places and drinking water, provide padding for their retreat places and in summer when the temperature rises up and beyond 90°F we supply our crew with ventilators to cool them down a bit. We invite you to get to know the ferret crew at the open house – unlike with the tigers, cougars or apes, snuggling, hugging or petting won't be a problem with this particular species.